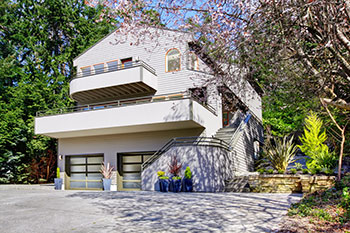 Simply put, the best garage door type is that which allows you to move in and out with convenience without bumping on the two sides of the entrance or making your life difficult. If you choose hinged, swing garage doors but you have no space for the door to open outwards, you will simply make your life very hard and you will hardly manage to drive the car in the garage easily. Why make your life hard when there are so many options today? The best news for those interested to replace the existing garage door is that there are many options in types, styles and designs. So, take your pick!
Make your life comfortable with the right garage door
When you are ready to proceed with garage door replacement and you need to make fundamental changes in the garage, consider the size of the space internally and externally. Some doors require space indoors and some outdoors, some will only occupy the space of the ceiling and a roll up garage door won't occupy space at all. Perhaps this is the best solution for tiny spaces, which still ought to have a reliable garage door.
Though, as odd as it may sound sliding doors do not occupy too much space either thanks to the great developments in the manufacturing industry. They can come in one or two panels and slide along tracks at the outer side part of the garage. The great news is that thanks to the existence of curved tracks and elaborated materials and hinged doors, the panel can easily turn around the corner and continue opening at the back side of the house.
The overhead door won't occupy space either except the space in the ceiling. In practice, they are very convenient too, since they will just open all the way running along their tracks. They come in sectional doors as well and this is practical because you can change each panel independently. Perhaps the most inconvenient (but not least popular) type of door, apart from the swing ones, is the up and over type since it will require some space in the driveway, too.